As spring approaches you might be thinking about taking some new family portraits. Perhaps you have a gift idea in mind for Easter? A new baby in the family? Well, I have an opportunity for you that would get you those portraits, plus help out a friend of mine!
Rose is a local Santa Cruz Resident and on October 26th was involved in a very serious head-on auto accident when a driver's attention was focused on a dropped piece of gum instead of the road. She sustained major injuries and has been working on an amazing recovery since then. The problem is, she has acquired a massive amount of medical debt. So a group of eight local photographers have decided to come together on Sunday, March 14th and offer family portraits as a fund raiser.
For interested families, the cost for a portrait session and one included 8x10 is $60. Additional prints and images will be available for you to order after the event as well. Additional donations are definitely welcome to help Rose out as well.
If you are interested in getting signed up for a portrait session or have any questions at all, please contact Mindy at helprosefund@gmail.com or read more about Rose at http://helprose.blogspot.com.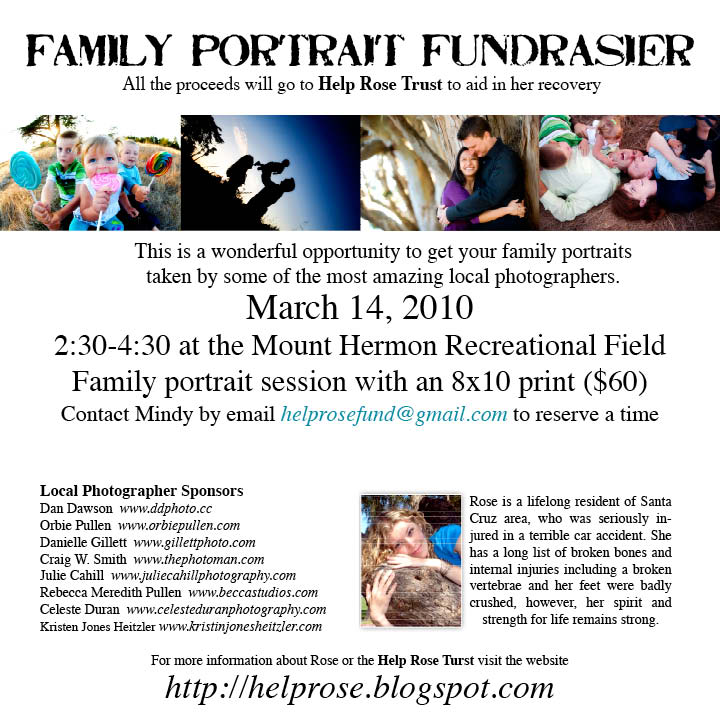 I was excited to be invited to photograph the 2009 graduating nurses from San José State University this year.  They had over 80 graduates from the program this year and I just wanted to say a big congratulations to all of those who worked so hard and persevered to complete the program. What a wonderful Christmas gift that was for them!
Below are just a few images from the day, and I invite you to take a look at all of the images by visiting https://ddphoto.cc/sjsu.
Several months ago I donated a family portrait session to the orthodontic office of Dr. Mark Joiner for a raffle they were having for their patients. Last night I was able to meet the winners of the raffle and had a great evening on the beach at Natural Bridges. Here is a slideshow of a few images from the shoot: